-[Thursday, November 12, 2009]-

Went town last friday with junqing, ahbee, sai tao and anhan. Skul friends! Reach there around 7 cause haiyi went my house help out with my project. Meet them at there and went mac cafe to slack. Saw many "turbo" at town that day. Hahas. They went on shopping and then back home. On last saturday went sentosa with hanyi and friends. At there got "super turbo charge"! lols. Going on this saturday again. Watched my 'girlfriend is an agent' It was like lame loh. Tml going town with them again after watching bryan match! =) Good luck!

One last thing. **** Man.u ! Hai wo shu qian!!
-..To be continue..-
;10:38 PM;
-[Thursday, October 1, 2009]-


Started work on monday with linwee, hanyi at dnt department. Linkeat and friends working at art department. Working at SEAB. One word to discribe! SLACK! Two words to discribe! Do nothing. Three words to discribe! Chit chat only! And the money come 5.50 bucks per hr. Best job ever uh? One riddles for you guys. What nut can drive?? lols. Tml working again. Marking on the N levels. Haa. Bye readers! Off to sleep!! =)
-..To be continue..-
;2:22 AM;
-[Wednesday, September 23, 2009]-
Yesterday went drinking at boat quay with boon and zhichen. Not many people at there. Order french fries and chicken wings. Very nice! Drink with boon when zhichen went around other places. Dun know why keep lose to boon. And keep drinking. Buay lim arhs! Cab home after that and have a good sleep.

Cab to skul for test. The test was lame. Dun even know how to do one qes. Crap with teacher and my teacher was very kp. Joke teacher. Went west mall with hanyi and jialiang. Have lunch and then went home.
-..To be continue..-
;2:07 PM;
-[Tuesday, September 22, 2009]-

Didnt blog so long cause blogger got problem. =(

Nowadays play for bukitpangjang csc. Quite fun acutally although my teammates were older then me. But they teach me alot of things. Won 2 lose 1 now. One more win to second round. Jiayous BPCSC! Tml got friendly at bpcc. And our next match was on 27 this month. Come support if can at SBC. If dun know how to go then call me. In the pic i am number 14!

Went suntec for food fair but end up walking in gca event. There is lots of pretty girls there btw. lols. Bought orh ni, otah and honey chicken chop at the fair. Yummy! take photo with the anime characters. Got two scary cats dun dare to ask for taking photo. =.='' Cab to town. And then have shopping. Ate dinner at ion japaness resturant. 4 ppl ate 95 bucks. WTF. exp like hell uh. But the ramen was great!

Going lot 1 to have meal with bee now. After meal play ball with yisheng, linkeat and weiwei. Bao kiat team!

Byes Readers! Update soon on next outing..
-..To be continue..-
;4:21 PM;
-[Sunday, August 16, 2009]-
Attended my mother's cousin wedding ceremony. We should reach at around 1pm since its held in the afternoon. I woke up at around 11+ near 12 and I thought I would be late for sure. In the end, I still need to wait for my sister and mum after I am ready.. so im not the latest. hahas. Dad drive us there and reached around 1.30. So not too bad, not very late. hehe. They are a lovely couple. congratz them :D
I cant take much pictures of them cause they kept moving around. lols


-..To be continue..-
;4:48 PM;
['-About Us-']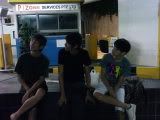 Lin Wee
Age:17
Bdae: 23march
Skul:Ngee Ann Polytechnic
Alvin
Age:17
Bdae:18August
Skul:Bukit Batok ITE
Rivario
Age:15
Bdae:27September
Skul:Swiss Cottage Secondary
Play basketball and always slacking around doing nothing~ (: *If you are not happy with us please move your mouse to the top right hand corner and click it. Then find a wall and bang your head onto it. hahas jkjk
['-Likes & Dislikes-']
Loves
-Playing basketball
-Playing piano
-Chocolate
-Going out with friends
-MONEY $$ LOL
and many many more
Hates
-Backstabber
-Waiting for people
-Study
['-The Memories-']

April 2009
May 2009
June 2009
July 2009
August 2009
September 2009
October 2009
November 2009

['-Links Links-']

..Aron&Longkiat
..Angie
..Basketballteam
..Beverly
..Binbin
..Bryan
..Celes
..Claudia
..Erica
..Geraldine
..Germin
..Hannah
..Hongjiong
..Huashan
..Huiming
..Jane
..Jiaming
..Jiaxuan
..Jingwen
..Jiayi&Yvonne
..Kenny
..Kezia
..Lexin
..Maureen
..Nyssa
..Ruisheng, Jiajun, Joseph
..Sharlynn
..Sharon
..Simon
..Stephanie
..Susan
..Wanting
..WeeBeng
..Weiting
..Weiyuen
..Yilin
..Yuchao
..Yuting
..YungJin
..Xinzhen
..Zac Tan
..Zhongwen